Model ET series
Model ET-50X:Electric Water Temperature Meter standard
Model ET-60X:Electric Water Temperature Meter (For Wells)
Model ET-72X:Electric Water Temperature Meter(With Depth Gauge)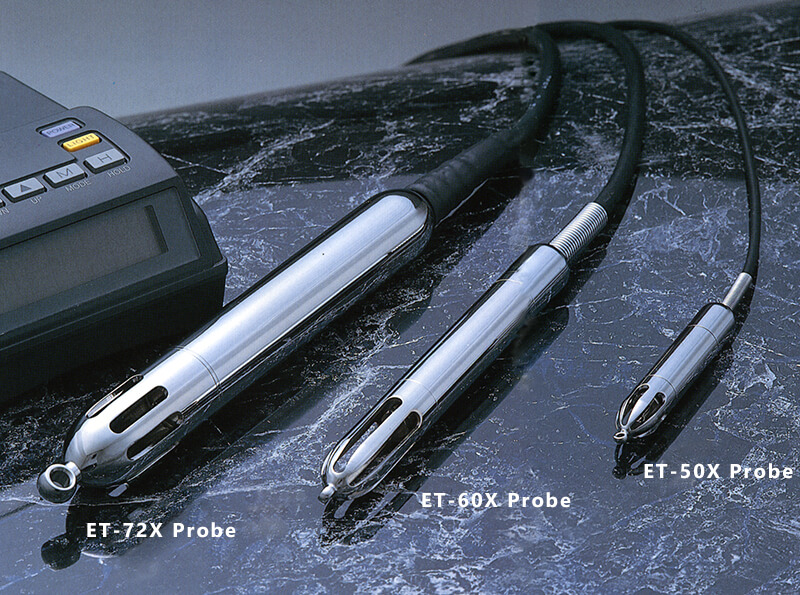 This device is used for measuring the water temperature of lakes, rivers, and coastal regions.
This is an immersion-type water temperature meter with a thermistor with excellent sensing speed enclosed in a metal case.
The probes and cabtire cables for all devices are designed to withstand high levels of water pressure and tension. In particular, Model ET-60X for wells is capable of taking high-accuracy measurements even at high temperatures and high pressures (water depth of 1,000 m).
In addition, Model ET-72X is capable of simultaneously measuring the water depth, making it possible to take quick and accurate measurements of the vertical distribution of water temperature.
Internal memory function
Water drop proof construction
Large and easy-to-read LCD display
Easy-to-operate
Portable
Memory Function
MAX 10,000 data points (timestamp + measurement data)
Power Supply
Four C size dry cell batteries or DC12V (option)
Battery Life
Approximately 24 hours with continuous use
Specifications
Dimensions/Weight
Model
Model ET-50X
Model ET-60X
Model ET-72X
Type
S
M
L
-
S
L
Probe
Dimensions (mm)
φ 18 × 104
φ 24 × 210
φ 35 × 300
Weight (kg)
0.13
0.4
0.8
Cabtire cable
Dimensions (mm)
φ 5 × 30m
φ 5 × 50m
φ 6 ×
customer-specified length
φ 9 ×
customer-specified length
φ 10 × 60m
φ 10 × 110m
Weight (kg)
1.1
1.8
0.05 /m
0.09 /m
8.4
15.4
Tensile strength
Over 20kg
Over 60kg
Over 80kg
Over 100kg
Controller
Dimensions (mm)
80 × 154 × 190
Weight (kg)
0.95(including batteries)
Measurement Range
Model ET-50X
Model ET-60X
Model ET-72X
Measurement Range
Water temperature
-5 - 40˚C
-5 - 40˚C (for wells)
-5 - 40˚C
0 - 100˚C
(for hot springs)
0 - 200˚C
(for hot springs)
Water depth
-
-
0 - 50 m [ET-72X, S Type]
0 - 100m [ET-72X L, Type]
Accuracy
Water temperature
±0.1˚C
-5 - 40˚C ±0.1˚C
±0.1˚C
0 - 100˚C ±0.5˚C
0 - 200˚C ±1˚C
Water depth
-
-
±1% (F.S.)
Option
Cord marker indicator
Cord spool
External output (0 - 1V, RS-232C, USB 2.0 standard, etc.)