Model EST-3X
Electric Water Quality Meter (Electrical Conductivity/Water Temperature Meter)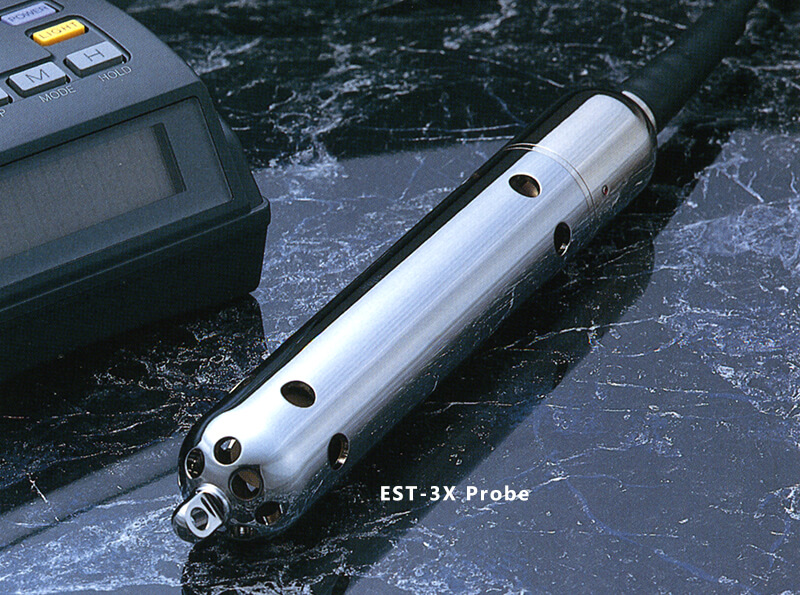 This device is used for measuring the electrical conductivity and water temperature of lakes, rivers, and groundwater. The probe and cabtire cable are designed to withstand high levels of water pressure and tension, making it easy to conduct distribution measurements by depth.
Internal memory function
Water drop proof construction
Large and easy-to-read LCD display
Loadable probe (special electrode type)
Portable
Includes 25˚C conductivity conversion function
Measurement Range
Conductivity:
20 - 400 µs/cm, accuracy ±3% (F.S.)
350 - 4,000 µs/cm, accuracy ±3% (F.S.)
3,500 - 50,000 µs/cm, accuracy ±3% (F.S.)
* 3-level switching
Water Temperature:
-5 - 40˚C, accuracy ±0.1˚C
Memory Function
MAX 10,000 data points (timestamp + measurement data)
Power Supply
Four C size dry cell batteries or DC12V (option)
Battery Life
Approximately 8 hours with continuous use.
Specifications
Dimensions (mm)
Weight (kg)
Notes
Probe
φ 40 × 260
0.9
Cabtire cable
φ 8 × 20 m (standard)
1.6
[Model EST-3X・S] Tensile strength over 50 kg
φ 8 × 50 m (standard)
4.0
[Model EST-3X・L] Tensile strength over 50 kg
Adjustable cord length Maximum extension 500 m
Controller
80 × 154 × 190
0.95
Including batteries
Option
Cord marker indicator
Cord spool
External output (0 - 1V, RS-232C, USB 2.0 standard, etc.)
Salinity conversion function (Cl display)